#LetsGetDigital: Five tips to takeaway from our digital marketing panel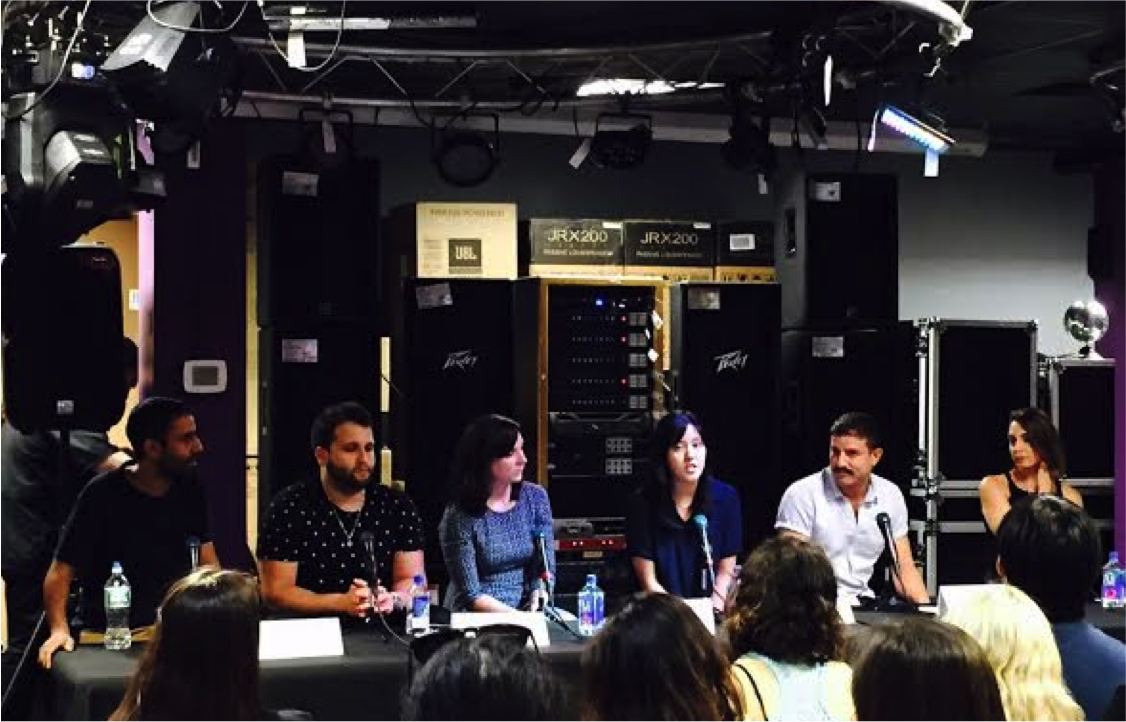 Didn't have a chance to make it to our Digital Marketing for the Modern Musician panel event? Don't fret. We have the top five tips to take away from our expert panelists. Our panel of industry experts was moderated by Larry Miller, Professor of Music Business at NYU Steinhardt, who likened the power of the panel lineup to the infamous 1927 Yankees' Murderers Row. The panel included:
Lior Aharoni Founder & CEO, Feature.fm
Alex Coslov Senior Marketing & Branding Manager, Ultra Records
Joanna Noyes Director Interactive & Audience Development, The Orchard
Stephanie Shim Head of Digital, Glassnote Records
Eric Sussman Manager, Amanda Palmer & Label Head, 8ft Records
Marni Wandner Founder & President, Sneak Attack Media
Our expert panelists had a lot to say about digital music marketing and their opinions on industry trends. Find out what they had to say…
1. Stand out amongst the saturation
You make great music, you're on all the right platforms and you're playing live gigs. So, why aren't you getting noticed? As a percentage of the 91 percent of undiscovered artists, you have to be strategic. Yes, we know it's difficult, but it's necessary.
Feature.fm's Lior Aharoni started by pointing out that, "The biggest challenge for artists is bringing their music to the market. As artists, we know how to create and produce music. But once it's done, we need to figure out how to get it heard."
The key is to determine what makes you unique from the other 91 percent and using that asset to your advantage. A way to this, according to Marni Wandner, is to look at other publications that don't just cover music. If you're a vegan, find a vegan magazine or blog to feature yourself and your music in.
2. Be authentic
As Marni said, "People need to get to know you as a human being."
The challenge of social media is creating an authentic voice to portray to your audience. Despite this being a challenge, it is also the most powerful benefit social media offers. Social media is the easiest way to engage with thousands, or even millions if you're that good, of strangers who want to interact with you. So do just that— engage, converse and show them who you really are.
Fans want to know you for more than your music, so use your lyrical genius to express your true self to the digital world—in 140 characters or less of course.
3. Find a balance between digital and physical
You're a musician, we know that, so why should you spend your time tweeting and updating your Facebook status? Because, "Digital marketing pays off in the real world," as our panelist Joanna Noyes wisely said.
Social media can feel like a full-time job, but today, it is a part of your story. As we have said, if you can master the art of conveying your true self on social media, it won't serve as a separate entity, but as an extension of your real-life self. Touring and live events are essential, don't get us wrong, but only reach a small mass of followers. When done correctly, social media connects you to a large audience on a 'real' level.
However, Stephanie Shim emphasized the continued importance of promoting yourself outside of the digital world, and into the real world, through networking, in order to compliment your online activities. As she explained, "There is something to be said about going to some of these parties, going to shows, meeting people. You never know who that person that you're getting beers with at the bar knows. You can just start chatting, it can happen organically."
When all is said and done, don't neglect your physical and digital persona because both are necessary to promote yourself. Be a rock star both on and off the stage.
4. Crowdfunding: Hard work and time can payoff
"Being an independent artist is expensive," Eric Sussman said. Crowdfunding can be a useful tool to raise the money you may need. But, many artists may not be aware of the time and effort that goes into a crowdfunding campaign.
Sussman was a part of the most successful music Kickstarter campaign for artist Amanda Palmer. While it was a record-breaking campaign, the immense amount of time and unforeseen challenges did take a toll on Amanda Palmer and her team.
While it requires extensive labor and some sleepless nights, crowdfunding is an incredibly powerful tool. If you have a large community of fans behind you and a willingness to put the work in, crowdfunding can pay off.
One of the most interesting comments that Eric made around Amanda's crowdfunding campaign focused on the importance of remembering what it is you are trying to fund. He mentioned that "There was so much attention around the success of the Kickstarter campaign itself that this became the story. Most people didn't even get to hear the art that the Kickstarter campaign funded." This is why we struggle to raise money in this business in the first place. To create art.
By the way, the album that she funded through Kickstarter is her 2012 album, Theatre Is Evil, which Eric mentioned is some of Amanda's best work. Make sure you check it out.
5. Playlists, Playlists, Playlists
Streaming services are drastically changing the industry and are independent artists get heard. But it's not enough to simply upload your music to these streaming services. So how do you take it to the next level? Playlists, that's how.
"Playlists are the new blog." At least that's what Marni Wandner believes. And, we agree. It's important to both create a strong following on your own playlists as well as get your music featured in as many as possible.
When it comes to your playlists, our panelists recommend creating one with a large following, rather than many with little to no followers. Alex Coslov says to treat your playlist as your own radio show. Talk to your fans online and ask them what type of music they want on your playlist. Our panelists also advise tagging artists that you include in your playlist with a link as well.
There are millions of DJs with playlists on streaming services for you to take advantage of and get your music on. As our own Lior Aharoni mentioned, "Today, anyone can be a DJ." However, it is not only about getting onto influencer playlists. Fans are just as influential. You just want to be on as many as possible. After all, the more plays you get on, the more money you make.
Bonus: We had two amazing performances
The event was complimented with great live music showcasing two of Feature.fm's talented artists. Make sure you check them out.
Dida
**Connect with Dida** Dida
The Castle Walls
**Connect with The Castle Walls** The Castle Walls
Want more tips on how to promote your music and upcoming events? Follow Feature.fm on Twitter at @Featurefm.