Skip the Spotify Login and Boost Pre-Save Conversions with Feature.fm's One-Click Spotify Pre-Saves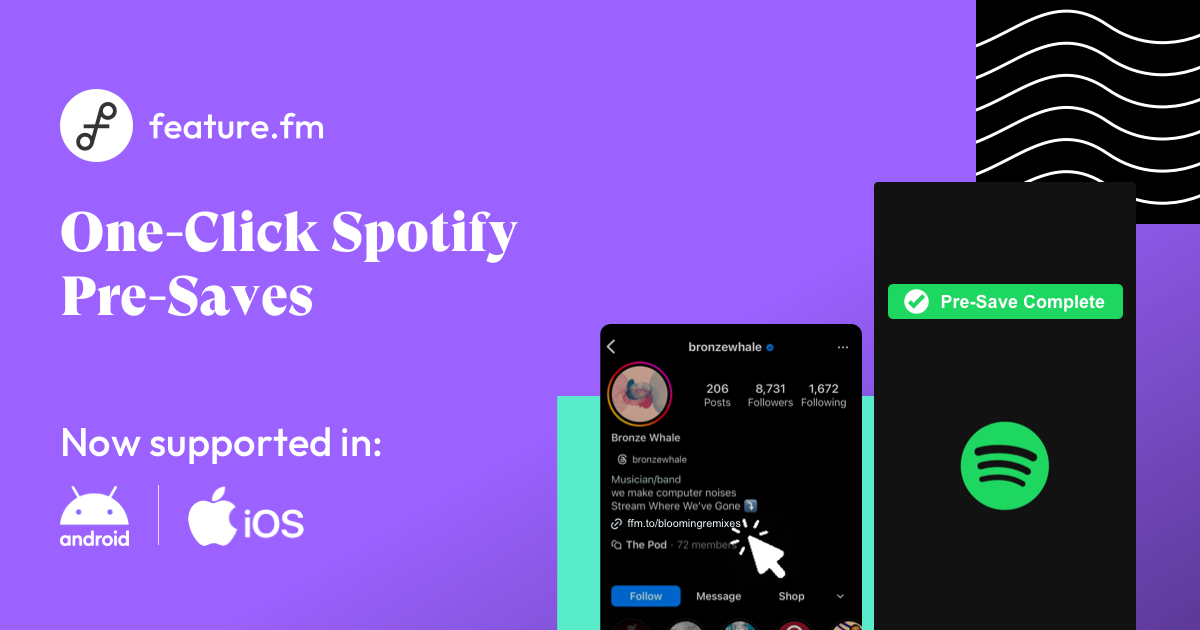 Skip the Spotify Login on iOS and Android and Increase Pre-Save Conversions
In the world of music promotion for an upcoming release, Pre-Saving a song on Spotify is a crucial step in ensuring that your fans get to listen to your latest release the moment it drops. However, for both artists and fans, the process hasn't always been as seamless as it could be. The problem lies in the way many social media platforms open your Pre-Save pages in their own mini-browsers, often requiring fans to jump through extra hoops just to access the music they love. But fear not, because we fixed it. Feature.fm has come to the rescue with our game-changing feature called "One-Click Spotify Pre-Saves."
The Annoying Problem: Mini-Browser Hassles
Picture this: You're scrolling through your favorite social media app, and you come across a post from your favorite artist about their upcoming release. Excited, you click on the link to Pre-Save the track on Spotify. But instead of being taken directly to the Spotify app, you find yourself in a mini-browser within the social media app. You're asked to log in again with your Spotify credentials, and by the time you've done that, you might have lost your enthusiasm.
This extra step, caused by social media platforms opening links in their mini-browsers, can be frustrating for fans. It often leads to a significant drop-off in Pre-Saves, which is not what any artist wants. Thankfully, Feature.fm has devised a solution that eliminates this annoyance and streamlines the pre-save process.
We solved it: One-Click Spotify Pre-Saves that Skip the Mini Browser by Deep Linking from Social Apps to Spotify
Feature.fm's "One-Click Spotify Pre-Saves" is a game-changer for both artists and their fans. The behavior is seamless and automatically detects the user is logged into Spotify on their phone and directs them through the Pre-Save without needing to log in again. Here's how it works:
Deep Linking: When fans click on a Pre-Save link shared by an artist on social media, they are deep-linked directly to the Spotify app. This means that instead of being stuck in a mini-browser, they're taken to the Spotify app instantly.
Automatic Login: What's even more convenient is that fans are automatically logged in to their Spotify accounts. No need to re-enter their credentials in the social app's mini-browser, which is often a hassle and a deterrent.
The result? Fans can Pre-Save their favorite songs with just one click, saving them time and frustration. This seamless experience encourages more Pre-Saves, benefiting both artists and fans alike.
Supported on both Android and iOS, covering over 99% of all mobile users
Feature.fm's One-Click Spotify Pre-Saves is a game-changing feature, but it's important to note where it can be used:
iOS & Android: This feature works in both iOS and Android devices, ensuring that over 99% of all mobile phone can enjoy this streamlined Pre-Save experience.
Popular Social Apps: Feature.fm's One-Click Spotify Pre-Saves are compatible with a wide range of popular social media platforms. You can use it on Instagram, TikTok (Android only) Facebook, Snapchat, Twitter, Reddit, Discord, and more. Unfortunately, One-Click Spotify Pre-Saves are not compatible with TikTok on iOS (yet).
---
In a world where convenience is key, Feature.fm's One-Click Spotify Pre-Saves is a breath of fresh air for both artists and fans. Say goodbye to the frustrations of mini-browser logins and hello to a seamless, one-click Pre-Save experience. This feature simplifies the process and ensures that fans can access your music with ease, ultimately helping your music reach a wider audience. So, if you're an artist looking to make your fans' lives easier and boost your Spotify Pre-Saves, Feature.fm is the way to go. Give it a try and watch your music soar to new heights!
Create a Pre-Save