How two strangers on TikTok used Feature.fm to get 250K Pre-Saves, 12M Spotify streams and major label deals
Here's the story
Stacey Ryan had a set schedule for her upcoming, finished releases. On December 29th, 2021, she decided to upload a TikTok open verse challenge for a completely different song that she was working on called "Don't Text Me When You're Drunk."
Suddenly, the response went viral and became one of the largest TikTok moments of the year, reaching nearly 300M people on the platform.
One of the responses to the challenge came from artist, Zai1k, who replied with a verse of his own on Jan 3rd, 2022. Fans reacted and demanded that a full version of the song featuring Zai1k had to be released.
At this time, the song lived only on the TikTok open verse challenge. There was no recording, no set plans to record and Stacey had a completely different idea for what her release schedule would look like.
This reaction set off a mad scramble to record and release the song while trying to figure out how to capitalize on this huge, viral moment.
"The intention wasn't to have a feature on the song, but when Zai1k did what he did, it was a no-brainer. Why try to re-invent the wheel when it's already going?" said Stacey. Stacey and Zai1k were able to come together through DMs to officially collaborate on recording a finished master of the song.
Stacey explained, "Suddenly, there was this pressure to release the song and it was a difficult process with separate recordings. Being in the room with 11 other song writers doesn't compare to doing it over the internet."
In the meantime, the team had to find a way to capitalize on the burst of popularity around the upcoming track.
Nils Gums, Stacey's manager from The Complex Group asked, "How do we capture the data and ensure that while we're recording without knowing what it's going to sound like, that we get this data and drive to DSPs when the time is right? We were searching for solution without a finished master and found Feature.fm."
What to do when you have a viral moment
So while the pressure was on to finish the recording, Nils was focused on both seeing the recording through and keeping up the fan engagement to maximize the results once the song is released.
Nils found Feature.fm and discovered that it would allow him to run a campaign to capture Pre-Saves, even without a finished song. This is due to the unique ability that Feature.fm has to run Pre-Saves even before there is any UPC or ISRC. Nils quickly created the Pre-Save and added it to Stacey's TikTok profile on January 10th, only 1 week since Zai1k's response to the open verse challenge.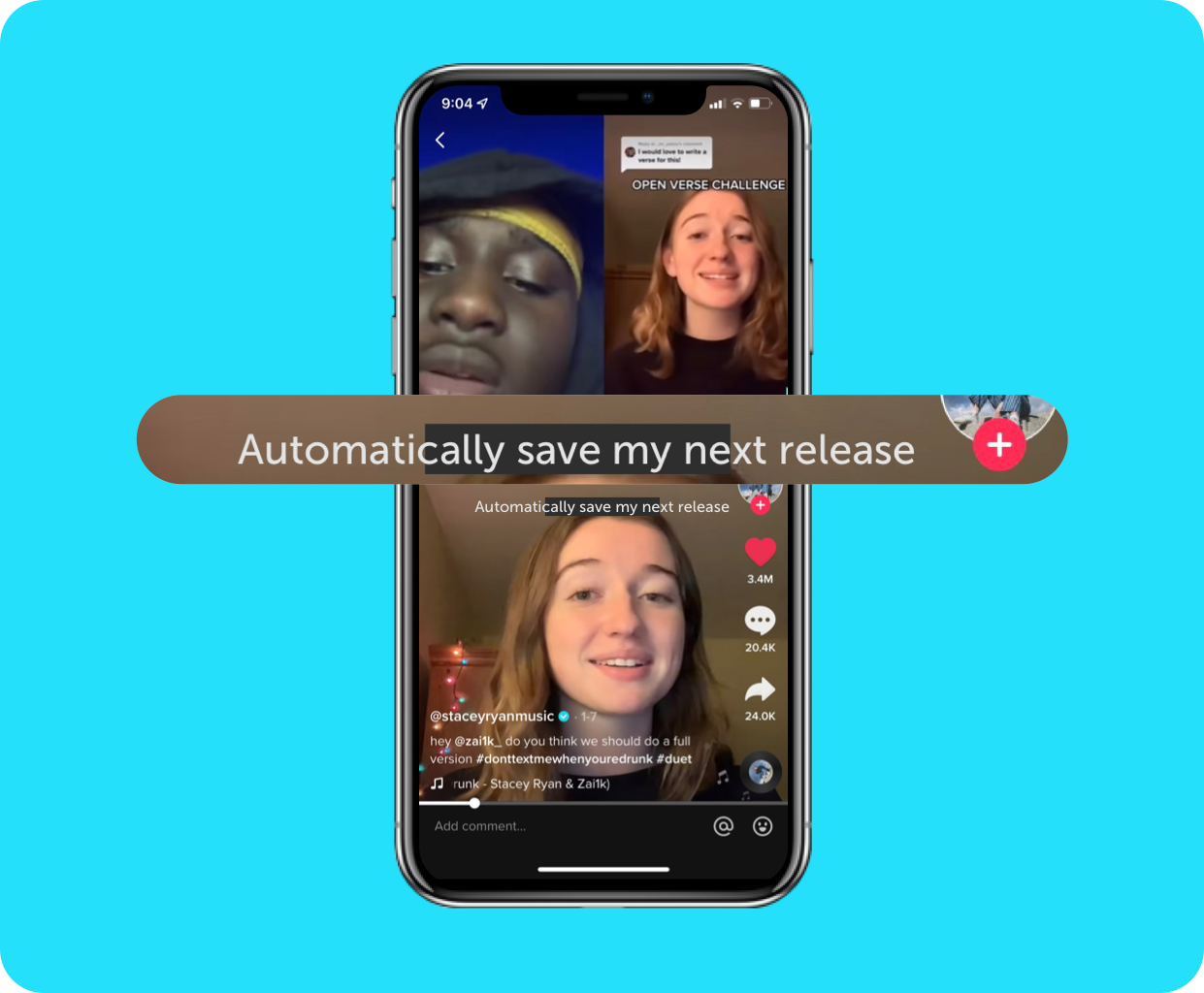 Nils Gums and his multi-platinum music producer clients and business partners, THE ELEVEN (James Morales, Matt Morales), were working feverishly to finish the recording while watching the pre-save ticker increase at 10 thousands of pre-saves per day. The Pre-Saves started to pile in, bringing in over 250K of them by fans on TikTok.
"Feature.fm allowed us to turn the creation and virality into a marketing campaign, capturing the data and the Pre-Saves." said Gums.
Stacey was able to ultimately connect with Island Records, leveraging her Pre-Save data and TikTok stats to secure a record deal with the major, which is part of Universal Music Group. Zai1k ultimately secured a deal with Sony Music's Columbia Records, also largely due to the success of "Don't Text Me When You're Drunk" and currently has another top song on TikTok called "Dump it Dummy."
On January 16th, Stacey released the song and turned the muscle of the fans she had amassed through her Pre-Save campaign into a hit song that has achieved over 12M streams on Spotify as of the date of this article.
"The magic of this experience is that this song was actually CREATED ON TikTok and was the first of its kind. It was completely organic and completely out of our control and that's what was so appealing to a lot of people," said Stacey.
THE ELEVEN and Nils Gums have since started an independent label called Creative House, with the focus of breaking real musical talent via TikTok and with the help of the team at TikTok's SoundOn distribution.
This entire story happened within a few weeks. Here's the whole the timeline:
Dec 29, 2021: Uploaded the open verse challenge
Jan 3, 2022: Zai1k responded with his verse
Jan 4, 2022: Stacey and Zai1k DM to coordinate on the song
Jan 6, 2022: Officially decided to record the song
Jan 8, 2022: Recorded in the studio
Jan 10, 2022: Added the Pre-Save to Stacey's TikTok profile
Jan 16, 2022: The song is released
The results
Stacey and Zai1k were able to leverage the success of their Pre-Save campaign into a huge hit:
They achieved over 250K Pre-Saves
Stacey secured a major label record deal with Island Records to release the song, utilizing her viral success and Pre-Save data as core drivers for the deal
Zai1k got a major label record deal with Columbia Records
The song achieved over 12M streams on Spotify as of the date of this article
Stacey and Zai1k went on to create an official music video for the record: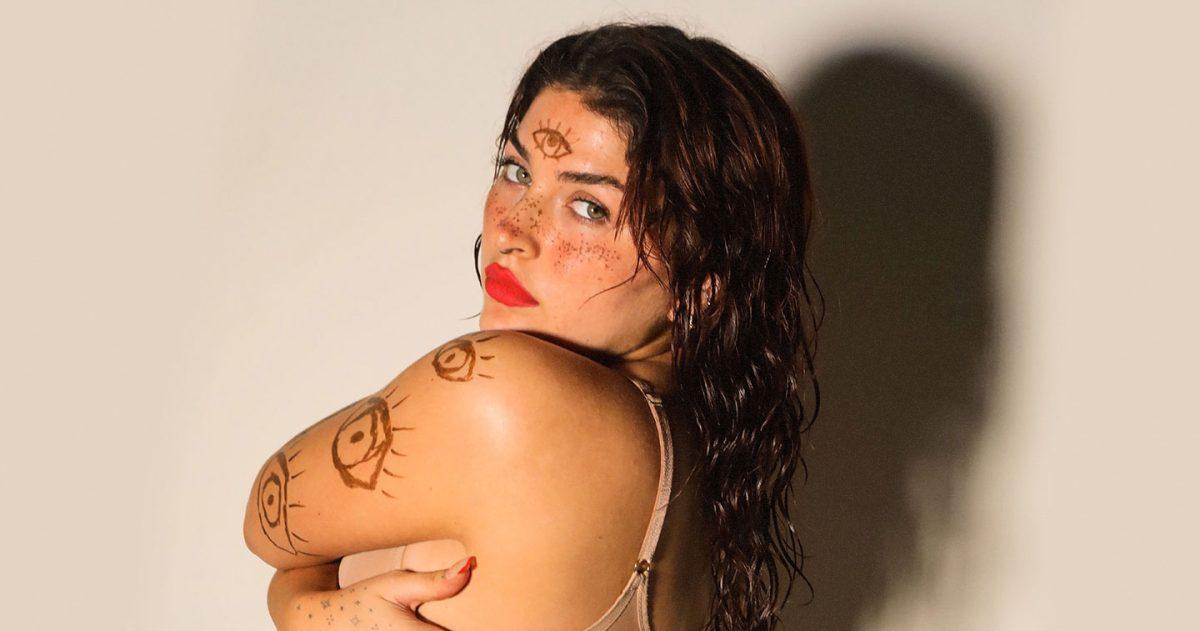 CASE STUDY
How Emmy Meli got 125M Spotify streams in 4 months for "I am Woman"
Discover how Emmy Meli used Feature.fm to get 125 million Spotify, chart placement on Billboard, Spotify Global 200 and Mediabase Top 40.