Feature.fm launches Smart Link with Spotify & Deezer Pre-save built in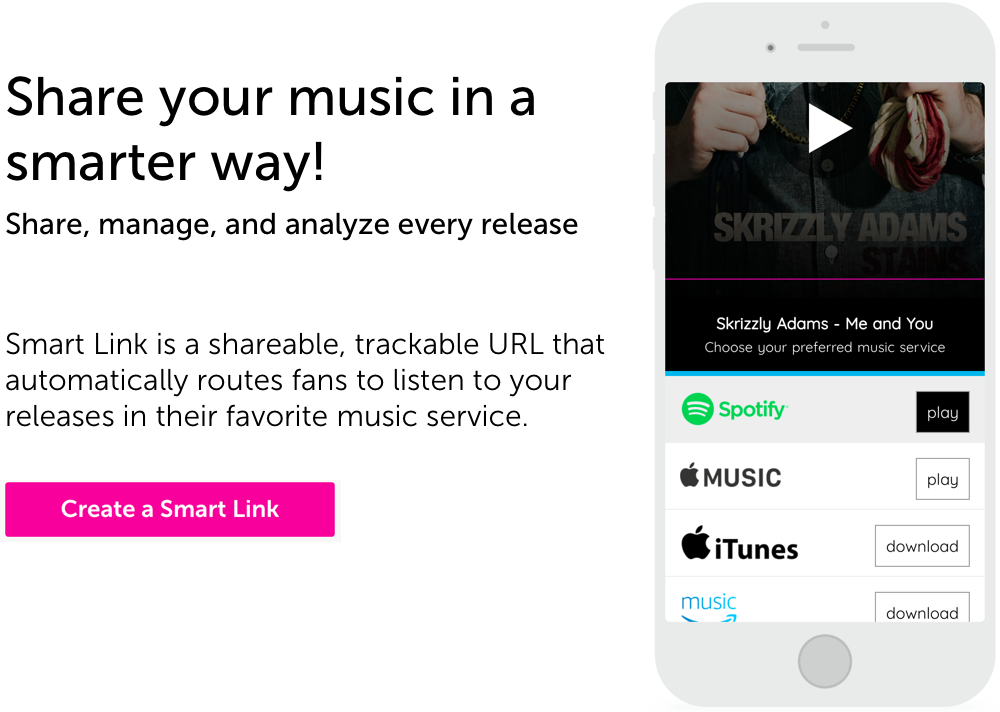 We're excited to introduce Smart Link
And you can access it for free for life!
By now, you've seen Smart Links appear everywhere. Smart Links are those little landing pages that allow you to choose which music service you want to listen to an artist's music in.
It seems pretty simple on the surface, but the value of Smart Links lies in what's under the hood.


Never lose a fan again
Make sure that the people you reach are getting to the right place to listen to your music.
When you have a new release and it's time to share it with the world, what link do you usually share? A link to Spotify? To Apple Music? 10 different links to 10 different services?
Smart Link gives you just ONE shareable, trackable link that automatically routes fans to your releases in their favorite music service, guaranteeing that you're not wasting clicks.



Seamlessly create links for future releases with Spotify Pre-save

1. Create a link for a future release with options to Pre-save and pre-order

2. We'll automatically add your music to fans' libraries once it's released.

3. Keep the same Smart Link URL once your music is released to keep the data and management in one place.

### Real-time analytics to instantly understand how your audience consumes your music
The second you create and share your link, you'll see data come in.
Your Smart Link is completely trackable so you get data on how fans interact with your music.
Which services do people listen to your music in?
Which platforms do most of your fans come from? Facebook? Instagram?
What countries and cities do your fans come from?
And much more




Advertise or embed Smart Ads and Smart Widgets
Smart Ads and Smart Widgets are embeddable layouts that are built on top of the Smart Link.

Advertise them in any ad unit on any website, embed them on your own sites, or give them to a publication for a premier!

You get all of the analytics in one place!





---
### You can create as many Smart Links as you'd like for free forever

Sign up or log in now!

Create a Smart Link
---
### Premium features Interested in advanced settings like retargeting, affiliate commission, Spotify Pre-save and more? We have plans from small to enterprise.
Start my Pro Free Trial
Premium features include:
Pre-release links with Spotify Pre-save built right in
Album & playlist Smart Links
Re-targeting data collection
Earn affiliate commission from Apple & Amazon
Embeddable Smart Widgets and Smart Ads
Link channels and direct to store links
Custom link branding
Custom artist stores and websites
Territory layouts and language localization