Get Pre-Saves without even knowing when your next release is
The Evergreen Pre-Save
Pre-saves are a great marketing tool to add to your release strategy - but how can you make pre-saves work for you when you don't have a set release date, or even a song you want to release? Discover that and more in our guide on how to create an Evergreen Pre-Save campaign for your next release.
TikTok's impact on the industry
Without a doubt, TikTok has changed the landscape in the music industry. In 2020 alone, over 70 artists that have broken on TikTok have gone on to sign to major labels. Not to mention the amount of independent artists that are crushing it on the platform on the daily.
Because of TikTok's short form video format, it can be easy for a consumer to dive into a rabbit hole with engaging content from artists. The platform has also done a great job with validating the concept that you don't need a team or a high-end camera crew to drive streaming consumption. All you need is a phone, and to be your true self on-camera.
Pre-release strategy
A popular music marketing tactic used by both major and indie artists alike is a pre-save campaign.
Pre-saves take the general idea of a "pre-order" from the digital album sales world, and apply it to the streaming age. The way it works is music fans opt in via a pre-save landing page to save their favorite artist's tracks to their library before the official release date.
This has a ton of benefits such as:
Increasing day 1 release saves (viewable in Spotify for Artists via their beta engagement tab)
Growing your artist or playlist followers on Spotify (with Feature.fm's post pre-save Follow actions)
Collecting fan emails that you can contact on a 1 to 1 basis
Placing your release in your fan's Release Radar (if they follow you or have been listening to your music in the last 30 days)
And potentially triggering the algorithm via Discover Weekly
Evergreen Pre-Save
Pre-saves are a staple in many music marketing campaign. Traditionally, artists and their teams prepare pre-saves once they have distributed their tracks, since that is the next release on the calendar.
But because platforms such as TikTok give artists the possibility of going viral when they tease unreleased music, what happens when you start to pick up traction and don't have a set release date?
How do you maximize the attention (and traffic) that is coming to your social media? Enter: the Evergreen Pre-Save strategy.
How does it work?
The Evergreen Pre-Save strategy works similarly to how a standard pre-save link works. From the fan's perspective, nothing changes. They are still able to select their preferred music service, pre-save the unreleased track, follow the artist on Spotify, and subscribe to the artist's email list.
The biggest difference is that because there is no set release date (and sometimes no set song title), you would simply have to change your smart link's copy to something that is evergreen, such as "pre-save my next song to hear it first".
How to create an Evergreen Pre-Save
Creating your Evergreen Pre-Save is simple.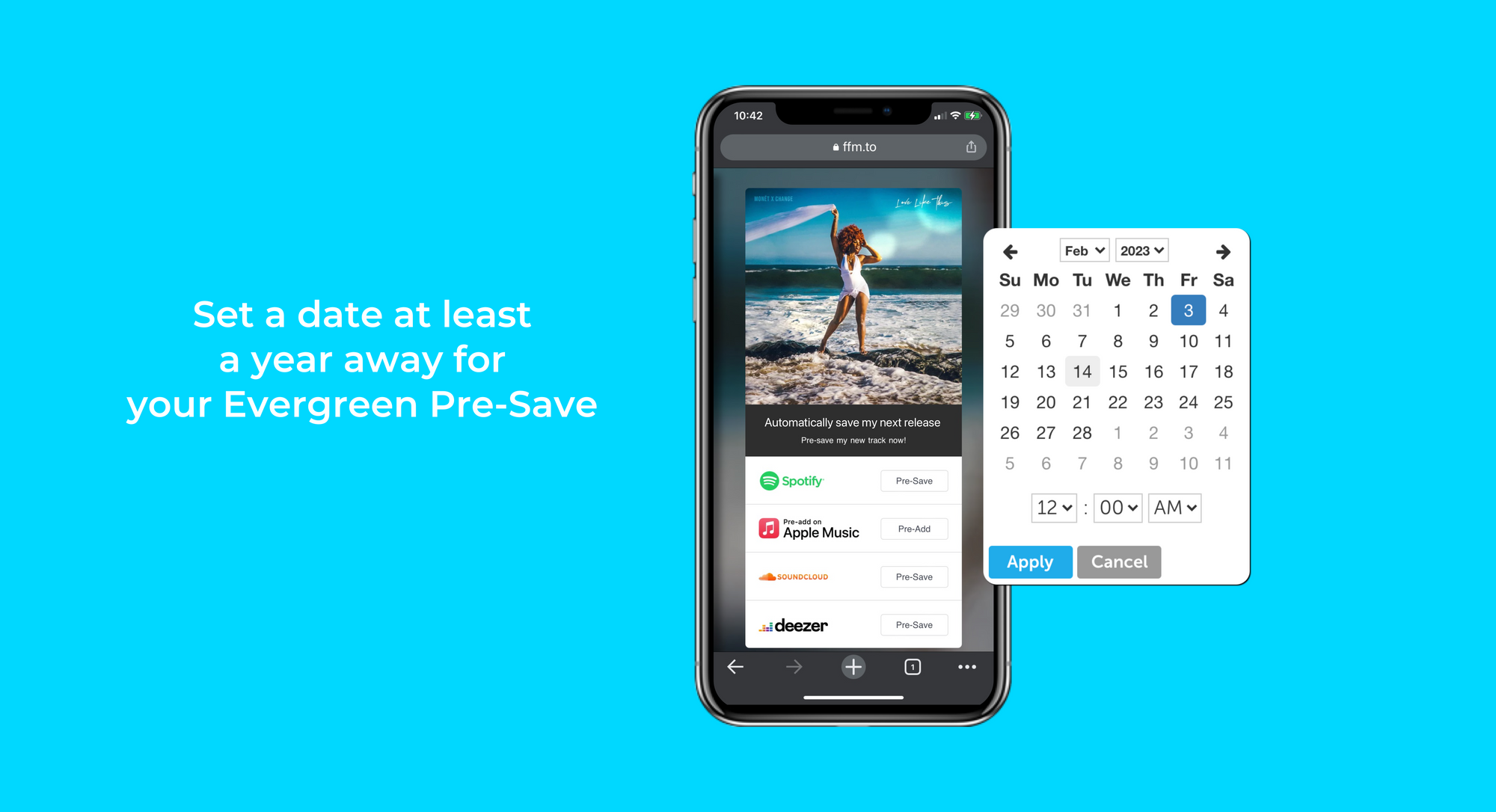 First, login to Feature.fm.
Next, create a smart link and select pre-release/pre-save. Make the title something like "Automatically save my next release."
Because you don't have a set release date, rather than placing your release date and ISRC when creating the pre-save in Feature.fm, you will add a temporary date (1 year from the date of creation for example) and leave the ISRC blank.
Edit the Pre-Save success message to remove the message that tells fans when your music is coming out.
Be sure to add your artist profile under the Spotify section to also start collecting profile follows leading up to your release.
And that's it! Continue with the link creation to add your image, pixels + more. Create your Evergreen Pre-Save today with Feature.fm.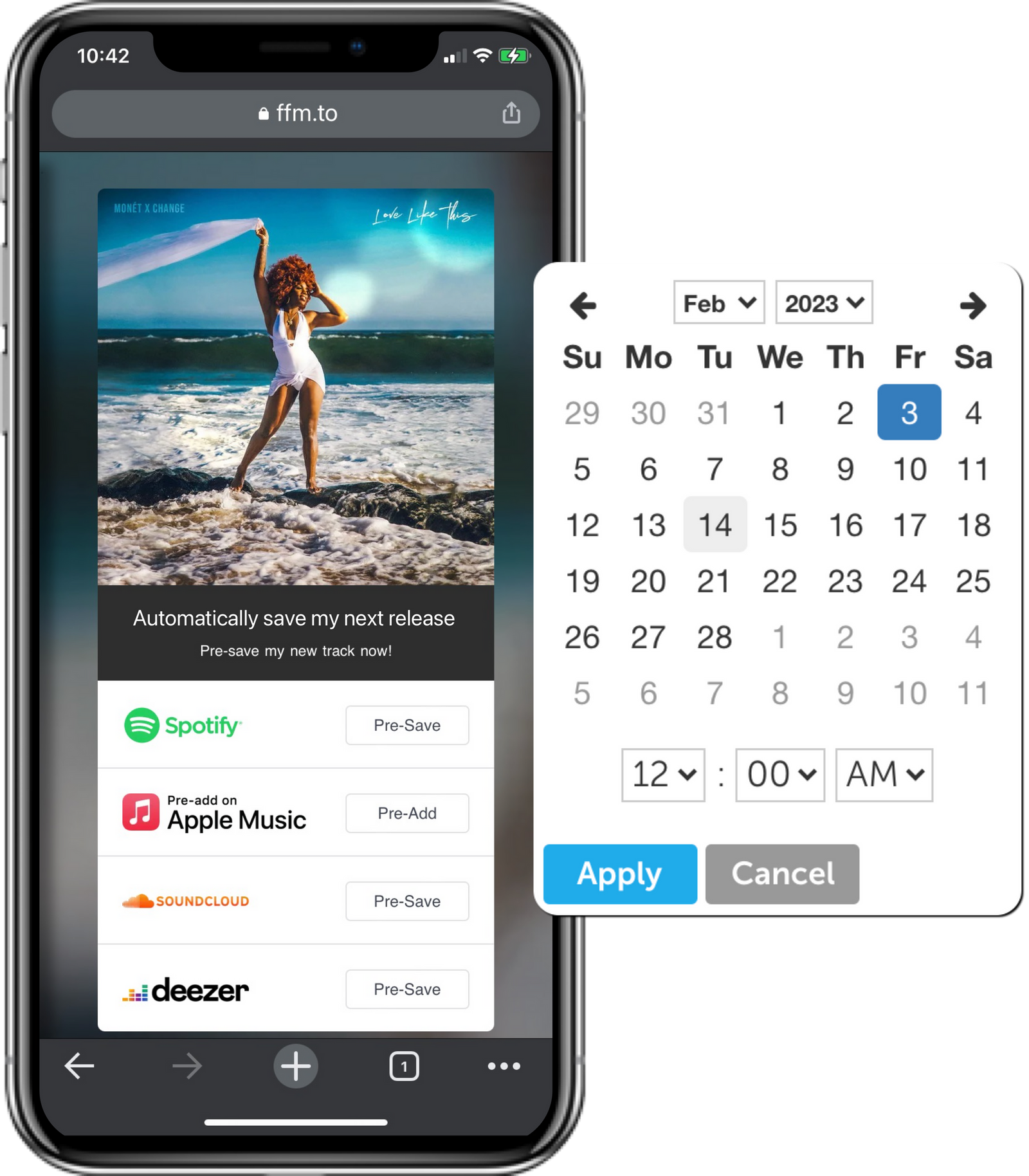 Get started
Create your own Evergreen Pre-Save
Create an Evergreen Pre-Save to start collecting saves even if you don't know when your next release will be.