SoundCloud and Feature.fm Partner to Unlock Exclusive Benefits for SoundCloud Artists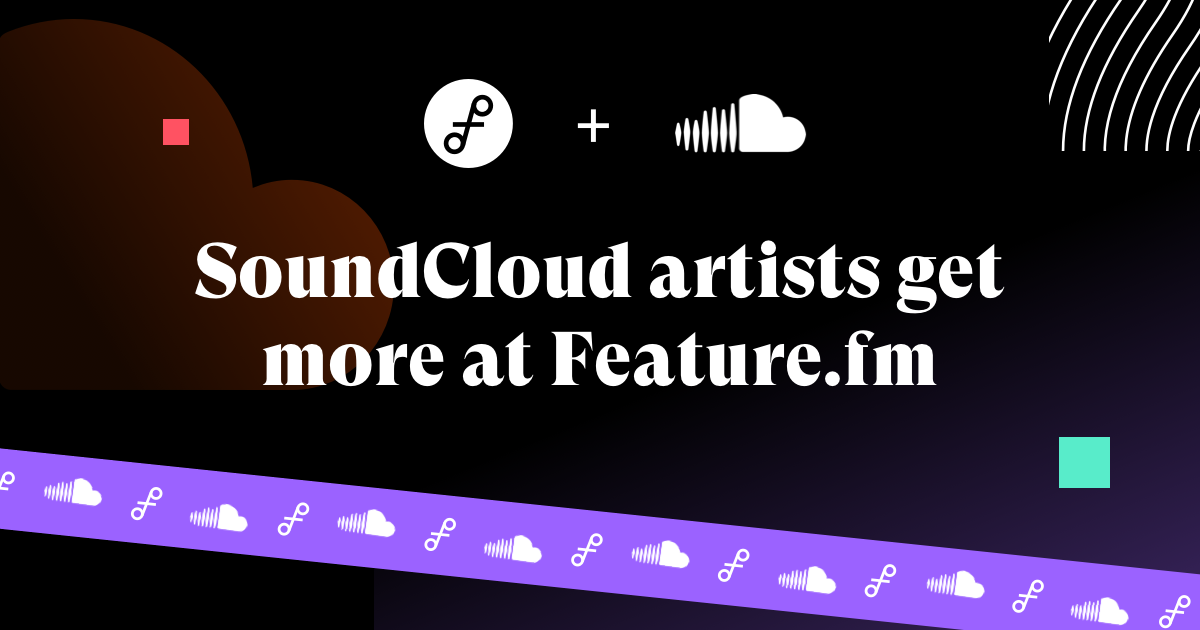 SoundCloud and Feature.fm announce a strategic partnership to provide exclusive benefits related to Feature.fm's marketing tools and resources for SoundCloud artists. These benefits, which will become available next month, include perks and discounts from Feature.fm and provide SoundCloud's highest, Next Pro tier of artists with a free plan and free ad credits.
Last year alone, Feature.fm created over 1MM marketing links for 300k artists, enabling musicians to grow and engage with fans from all corners of the globe. This reinforces Feature.fm's leading position and scale in serving the booming artist market exceptionally well.
As SoundCloud's exclusive music smart links and pre-saves partner, Feature.fm will deliver access to best-in-class marketing, advertising, analytics and CRM tools to millions of SoundCloud Next and Next Pro artists with the goal to put professional music marketing tools in the hands of every artist.
Feature.fm will introduce a new entry level pricing plan that will be available exclusively to all SoundCloud artists for the first 90 days. SoundCloud is offering this new pricing plan for free to all of their SoundCloud Next Pro Artists along with free ad credits. Additionally, SoundCloud is providing discounted pricing on Feature.fm for its Next members. SoundCloud artists can unlock their exclusive offers and discounts by simply connecting their SoundCloud account to Feature.fm. Artists can also log into their SoundCloud for Artists account for additional details on the curated benefits and discounts, which will become available in May.
"As a platform that puts artists at the forefront, we are dedicated to forging powerful partnerships that deliver tangible value and unwavering support to the SoundCloud community. Our latest collaboration with Feature.fm is a testament to our unrelenting commitment to empowering artists by providing them with cutting-edge benefits that streamline their workflow and unleash their artistic potential." Shauna Alexander, VP of Business Development, SoundCloud
About Feature.fm: Having received high praises in esteemed publications like Forbes and Music Business Worldwide, Feature.fm proves the reason for their veteran status in the industry by once again taking a progressive approach to the continuous explosion of both independent and label-backed music. With major customers like TikTok's SoundOn as well as some of the largest indie music distributors and labels in the world like Ditto Music, Create Music Group, oneRPM, Secretly Group, Empire, The Orchard, AWAL, Epitaph/Anti-, Beggars Music Group and 300 Entertainment, they have solidified themself as the most trusted and diversified marketing company in the music industry. Last year, Feature.fm created over 1MM links for 300k artists; making it easy for artists to connect with fans all over the world, Feature.fm provides best-in-class technology, driven by a team of experts who specialize in big data analytics and content discovery.
About SoundCloud: SoundCloud is a music company powered by an ecosystem of artists, fans and curators leading what's next in music. Founded in 2007, SoundCloud is an artist-first platform empowering artists to build and grow their careers by providing them with the most progressive tools, services, and resources. With over 320 million tracks from 40 million artists, the future of music is SoundCloud.
Feature.fm Online
ffm.bio/featurefm
Website
Facebook
Instagram
Twitter
LinkedIn
_________________________________
For More Information Please Contact:
Marilyn Reles Lozano
Present PR
marilyn@presentpr.biz // (920) 698-7181