New: TIDAL Pre-Save is available in Feature.fm
Feature.fm adds a new TIDAL partner integration
Now you can include Pre-Saves on TIDAL in your Feature.fm Pre-Release links.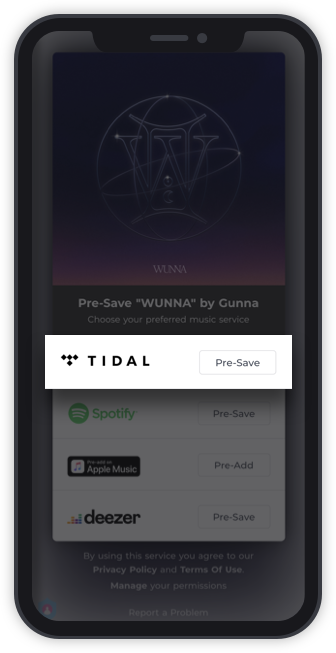 Pre-Saves are engaging pages that encourage fans to save your music in their preferred streaming platform before it's released.
We are thrilled to partner with TIDAL, a premium service with a strong focus on artist growth, to expand the Pre-Save offering.
How it works
Using the TIDAL Pre-Save helps you market your music in TIDAL ahead of your release, increase your playlist adds, get more artist follows, and collect fan email addresses when they opt in all from one simple action.
Make sure you include TIDAL in your default stores or add the "TIDAL Pre-Save" store when you create a new Pre-Release link.
Fans click Pre-Save to get your music in their libraries on release day.
Feature.fm completes the Pre-Save and ensures you also get followed and added to playlists of the fan's choice.
Collect fan emails, audience insights, and remarketing data (on consent).


Create a TIDAL Pre-Save