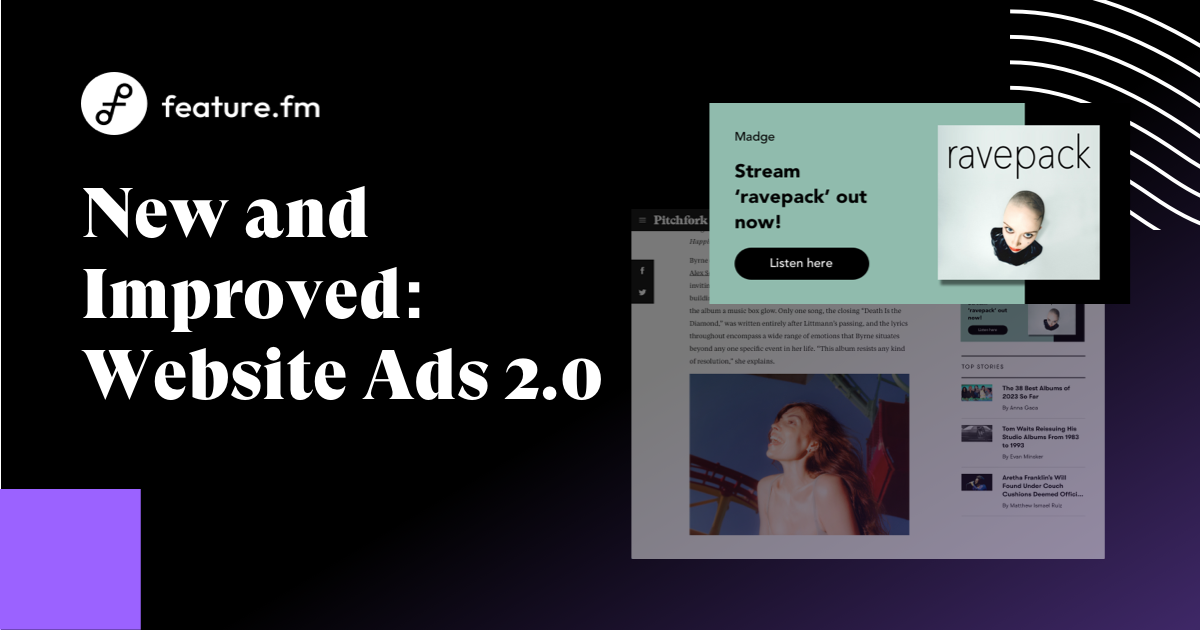 Feature.fm Website Ads 2.0 were created with ease of use and effectiveness in mind. Paired with incredible affordability, this retooled feature has maximum impact for the artist, or marketer of artists, looking for a quick entry into music advertising.
Now with over 2,000 popular music websites on the roster, including the likes of Rolling Stone, Billboard, Pitchfork and NME,  artists and labels have more opportunities for reaching their target audience as well as access to ad placements with much higher traffic than before.
The revamped ad tool also includes the option to run ads on any web destination - not just a Release Smart Link. Direct your ad clicks to a Pre-Save, Tour, Contest or Smart Link, or any where else on the web you would like.
How it works
Optimized for impressions, Website Ad campaigns are great for increasing brand visibility and exposure to the right audience.  And with our super simple setup process, no marketing experience is required to get an ad campaign live. All you need is an image paired with a destination URL and in 10 clicks or less, you will have generated a Website Ad ready to be served across more than 2,000 popular music sites.
Setup is simple:
Select the "Popular Websites" campaign option from the Ad Campaigns tab in your Feature.fm dashboard
Set an ad destination and upload an image for the ad creative
Refine your target audience with location-based parameters and/or genre-focused preferences
Set a budget, campaign schedule and speed (how quickly you want to use your budget)
Submit for approval
Easy, peasy! Whether you're a self-managed independent artist with limited time and resources or a seasoned music marketer looking for quick and easy results, the improved Website Ads tool can bolster your advertising.  Check out our additional tips and resources below and get started today!
Additional tips and resources
If you are pointing a website ad to a Feature.fm Smart Link, be sure to use the Channel Tracking links so you can measure performance in the Analytics page
Be sure your ad image includes text for what your audience should expect when clicking on the image (i.e. "Pre-Save my album now!" or "Get your tickets to the tour!"). Use Canva, Pixlr, or your go-to image editor to make your ad eye-catching and direct.
Check out these FAQ articles for more